With the addition of Ruggieri Precision Machine in April 2017, Lehigh Fluid Power now offers an extended repair program that not only includes the factory cylinder repairs you've depended on but an expansion of capabilities to include all other cylinder brands, pumps, valves and an array of hydraulic equipment. Lehigh can now also offer pick up and delivery service within the area we serve.
Repairing a cylinder, valve or piece of hydraulic equipment is often the most cost effective and fastest way to get it back into service. In an emergency or breakdown situation, without a spare on the shelf, it may be the only option to get a turbine back into service or return a system to online status. Lehigh has decades of experience providing actuators to the power generation industry and we understand mission critical. Whether during a planned outage, an emergency breakdown or a standard repair, Lehigh can meet your repair needs.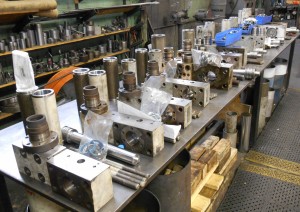 Process and Advantages
Provide a complete evaluation, quote and cost comparison to a new actuator.
Opportunity to diagnose application issues upon evaluation. Often times when the cylinder is evaluated, we are able to see the signs of misalignment, excessive side load or the effects of foreign material in the cylinder. We pass this information along to the customer and can make recommendations based on our observations
All cylinder repairs are done with OEM parts. Often times repairs are done by local shops who do not have access to the seals or materials used here at Lehigh resulting in a repair with a significantly shorter service life and decreased performance.
The ability to not only repair cylinders, but to often repair the accessories provided with the cylinder if they were damaged in service
In cases where a customer wishes to perform their own repairs in house, we offer training and OEM parts and kits as well as stocking programs.
What information do I need to do to have my cylinder evaluated for repair?
Using the tag on your Lehigh cylinder, locate the serial number of the actuator.
Call or email our sales department for a Return Goods Authorization (RGA) number and include the serial number of your actuator.
If the tag is missing or damaged and the serial number is not available, include any information you have on the cylinder including the original purchase order number if possible.
Don't hesitate to call if you're missing any of the information, our sales department will be happy to assist you.
Repair Facilities
Do you provide repair services to a power generating facility? Pharmaceutical company? Mining company? Lehigh has several partnerships with repair facilities nationwide to provide OEM parts and support. Please call or email us to discuss your situation and see how we can help your business.